United States Classic Mural Map
---
United States Classic Mural Map
United States Classic Mural Map
SKU: NGOGEOMAPUSWMM
$99.99 $54.99 (Save 45%)
---
Overview
The signature Classic style United States map uses a bright, easy to read color palette featuring blue oceans and stunning shaded relief that has been featured on National Geographic wall maps for over 75 years. All 50 States are featured including insets for Alaska and the Hawaiian Islands. An inset demonstrating the relative size of Alaska is shown as well. All major cities, transportation routes, State boundaries, National Parks, inland waterways, and mountain ranges are clearly displayed and labeled. It is truly an iconic map that never goes out of style.

Mural Maps are printed on a tear-resistant, coated paper to achieve a combination of exceptional strength, color protection, and long life. Mural Maps can be hung using heavy duty (clay based) wallpaper paste. The map is coated to resist dirt and dust and may be cleaned with a slightly dampened cloth.


Reviews
Customer Reviews
Write a Review
Ask a Question
I recommend this product
The One
I never write any review, just writing that one hoping NG would grant me a discount in case I would want to buy this map again... which I would definitely do if I ever move. This map is of a very good quality and did not change a year and a half after I put it on the wall in my office. Since it comes in three panels, I actually put it on three light wooden panels in order to protect both map and wall. People love it even those who thought the map was way too big. There is no such thing...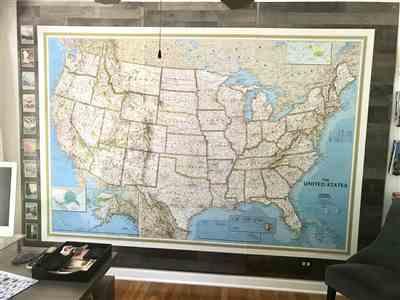 Comes in 3 Pieces: Very Disappointed
Nowhere in the description or details does NatGeo bother to tell us that the map is cut into 3 pieces. Who sells something like this without telling its customers? Now I have to spend time aligning 3 gigantic 3' x 6' strips, instead of just tacking up one piece. Not a happy customer.
Beautiful Map, but it ruined our wall.
We hung two beautiful National Geographic maps up in our kids' playroom. This "repositionable" map and a larger world map, which is laminated and we used tacks at the corners. The latter option was a much better choice. This wall-paper like map completely destroyed our wall. I have to use joint compound to completely resurface and smooth out the drywall. I'm not thrilled about this. I recommend sticking (no pun intended) with the classic laminated maps that aren't self-adhesive. I took a photo of how bad my wall looks, but can't seem to find a way to upload it with my comment. Bummer.
"WOW" Everyone digs this map !
Covers a lot of wall. Like a people magnet. Makes us think about our clients and what is going on where they live.
Great addition to my home
I got my mural wall map in 3 days and had it installed right away and love it.It is quite the eye catcher at 6ft. by 9 ft.and it looks so good I am going to have a cherry wood trim put on to frame it in. I do not know how to install wallpaper but hired someone to do it and am very very happy