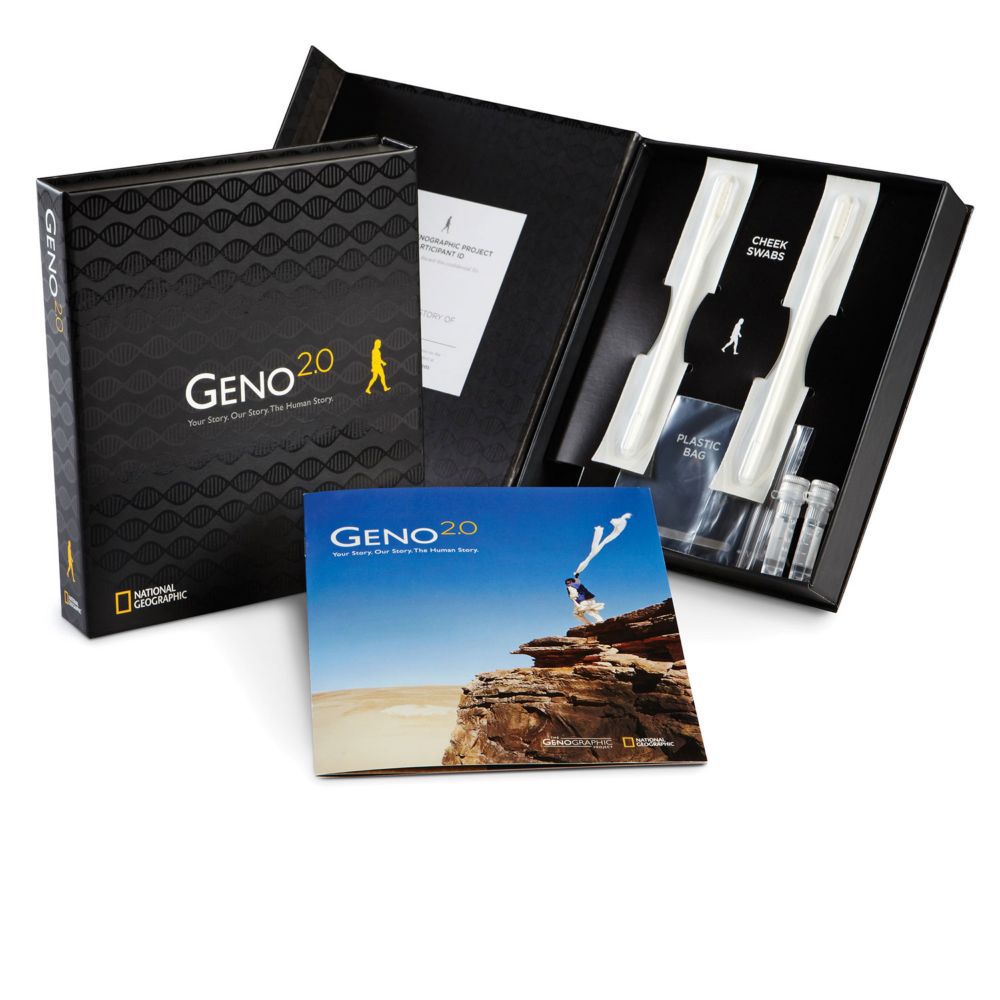 Geno 2.0 - Genographic Project Participation and DNA Ancestry Kit
Join the more than half a million people who have already taken part in National Geographic's groundbreaking Genographic Project.
Join the more than half a million people who have already taken part in National Geographic's groundbreaking Genographic Project—contribute to this real-time scientific effort and learn more about yourself than you ever thought possible.
About the test
National Geographic Explorer-in-Residence Dr. Spencer Wells and team designed Geno 2.0 based on the new technologies and insights that emerged since the launch of the Genographic Project in 2005. Using an exclusive, custom-built genotyping chip, we test nearly 150,000 DNA markers that have been specifically selected to provide unprecedented ancestry-related information.
By participating, you will:
• Discover the migration paths your ancient ancestors followed hundreds—even thousands—of years ago, with an unprecedented view of your ancestral journey.
• Learn what percentage of your genome is affiliated with specific regions of the world.
• Find out if you have Neanderthal or Denisovan ancestry.
• Have the opportunity to share your story and connect with other Genographic Project participants, helping us fill in the gaps in the human story.

What's included in the Geno 2.0 DNA Test kit:
The Geno 2.0 kit contains everything you need to begin the journey into your past, including painless cheek swabs and instructions for submitting your DNA samples (return postage required). Plus, we've designed the Geno 2.0 kit box to serve as a beautiful keepsake to store your results after you access them online.
How your participation helps the Genographic Project:
The Genographic Project is an ambitious attempt to help answer fundamental questions about where humankind originated and how we came to populate the Earth. Using the latest genetic and computational technologies to analyze historical patterns in DNA from participants around the world, our team of world-renowned scientists led by Dr. Spencer Wells, seeks to reveal our migratory history and to better understand the connections and differences that make up humankind.
As a Genographic Project participant, you will have the opportunity to contribute your data to our Genographic database, helping our scientists and researchers who are working to chart a comprehensive map of the early stages of human history. Participation in the Genographic Project database is your choice and is not necessary to access your individual results.
And a portion of the proceeds from the sales of Geno 2.0 kits are channeled back into the project to support additional research and to fund cultural conservation and revitalization efforts for indigenous communities around the world through the Genographic Legacy Fund.
Find more details on the Genographic Project on the About the Project page. Read Cara Santa Maria's interview with Spencer Wells here.
Due to the cost of the DNA analysis, once the kit has been opened, we cannot accept returns or administer refunds. You must have Internet access to view the results—results will not be mailed. Results are available online via confidential Genographic Project ID 6-8 weeks after our lab receives your DNA samples. If you lose the ID provided with the kit, we cannot recover your information. Each kit contains supplies for testing one person. Please note, because women do not carry a Y chromosome, this test will not reveal direct paternal deep ancestry for female participants. Women will learn other information about their paternal side of the family, however.
The Genographic Project does not test for medical information. Please read the complete terms and conditions of purchase. You must be 18 years or older to purchase a kit. Parental or guardian consent is required for participation of a child under 18.